University of Cape Town (H3D)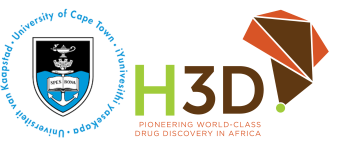 Holistic Drug Discovery and Development (H3D) Centre
Cape Town, South Africa
Member since 2014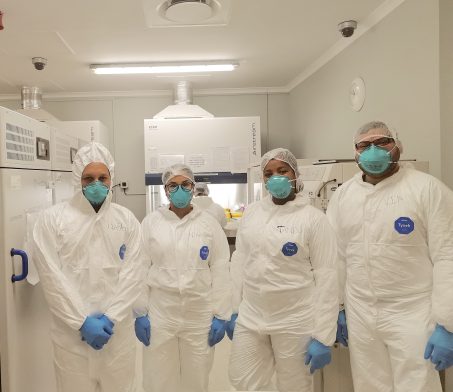 Representative
Kelly Chibale PhD, Professor, founder and director of H3D Holistic Drug Discovery and Development Centre
Team
Jessica Akester
Greg Basarab
Nikki Cardoso
Nashied Peton
Sandeep Ghorpade
Vinayak Singh
Richard Gessner
Lutete Khonde
Stephen Fienberg
Mathew Njoroge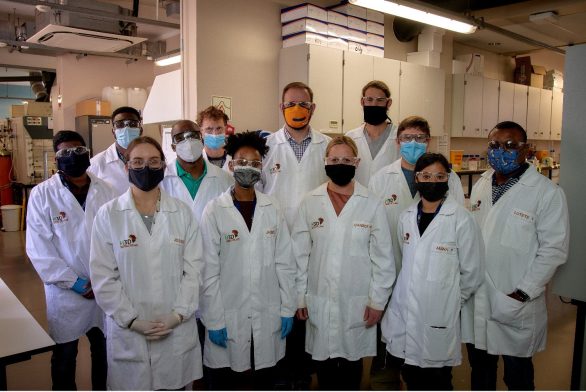 About
The University of Cape Town (UCT) Holistic Drug Discovery and Development (H3D) Centre is the first and only Centre of its kind on the African continent with world-class infrastructure. It is a place where African scientists can utilize their scientific skills and education to improve the health of African patients and to educate the next generation of African pharmaceutical scientists.
H3D is focused on developing technology platforms that allow customization of medicines to African patients' needs and discovering medicines for diseases that predominantly affect African populations, such as malaria, tuberculosis (TB) and antibiotic resistant microbial diseases. The Centre undertakes drug discovery underpinned by the integration of chemistry, biology, and pharmacology, including drug metabolism and pharmacokinetics (DMPK). H3D's portfolio includes projects in TB, malaria, antibiotic resistant microbial diseases and COVID-19. H3D has a strong impetus for capacity building and supports drug discovery across Africa through fee-for-service offerings, research collaborations, expertise as well as scientific and technical guidance, and mentorship.
While H3D is a building block to towards sustainable drug discovery in Africa, the Centre is also a key contributor towards the South African Bio Economy Strategy, and is focused on addressing SDG3 -universal access to effective medicines and training of competent healthcare professionals in developing areas, including the creation of local capacity to address Africa's health problems and by creating science jobs. H3D's consistent focus at a project level generates a level of activity that contributes to the key national priorities while steadily building up sustainable pockets of scientific excellence.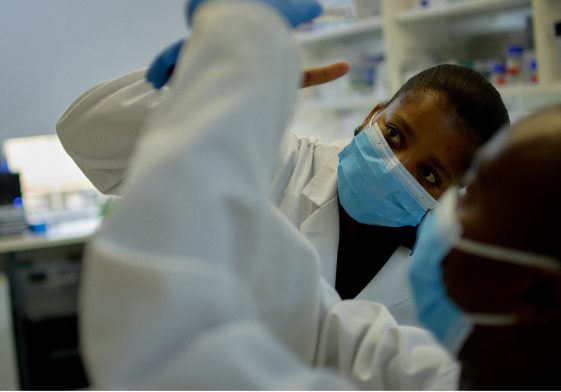 Role & Expertise
In 2013 H3D was awarded funding by the Bill & Melinda Gates Foundation (BMGF) for malaria and TB drug discovery and, subsequently, was elected to the Tuberculosis Drug Accelerator consortium (TBDA) in 2014. Within the context of the TBDA, further collaborations were initiated with the Infectious Disease Research Institute (IDRI) and Elli Lilly, as well as Celgene Global Health. H3D also partnered with the HIT-TB consortium, taking advantage of collaborations with NIH research groupings as well as leading public and private institutions in exploring advanced research models to identify new medicines to treat TB.
H3D has established medium-throughput screening platform for phenotypic- as well as target-based screening to identify novels hits for lead generation programs. In addition, multiple chemical series identified from phenotypic- and target-based screening of pharmaceutical company libraries are being evaluated to generate a panel of mechanistically distinct chemical series potentially effective against TB.
In the spirit of "Team TBDA", H3D has partnered with Evotec, Texas A&M University and other TBDA members to collaboratively prosecute a target-based project towards novel inhibitors of Mtb RNA Polymerase to combat TB.
As an integrated drug discovery and development centre, the Centre focuses on infectious diseases; TB, malaria and more recently antimicrobial resistance (AMR) and COVID-19.
The state-of-the-art laboratories of H3D are housed in the Department of Chemistry (medicinal chemistry laboratory), Department of Medicine (ADME and DMPK) and Institute of Infectious Disease and Molecular Medicine (IDM; biology and parasitology laboratories). Each laboratory is equipped with modern state-of-the-art instrumentation. H3D has a dedicated TB biology laboratory and team housed at the IDM with access to BSLII and BSLIII facilities. The TB biology team routinely conducts whole-cell and target-based screening, hit-triaging, target identification and validation studies. The BSL2 Drug Discovery Lab houses a separate access-controlled tissue culture facility, the TB screening platform; and bench spaces for assay development and target ID/mechanism of action work.
Links
References
More
Malaria
H3D has established cross-functional teams with expertise in medicinal chemistry, biology, and preclinical pharmacology, and a robust pipeline of projects at the various stages. H3D has a dedicated parasitology team to perform blood-stage screening for malaria with access to other lifecycle stages through our partnerships. The malaria biology team has developed various enzymatic assays as well as a humanised in vivo efficacy mouse model.
AMR
Building on our existing expertise in infectious disease drug discovery, H3D has expanded its facilities and capabilities to include AMR biology and a screening centre to test novel therapies, small molecules and natural products as starting points for potential AMR treatments. The Centre works on resistant strains of Gram-negative and Gram-positive bacterial pathogens including those designated by the WHO as being high priority due to widespread resistance. Coupled to this, H3D has streamlined data management and sample management capabilities and liquid handling robotics systems to facilitate the processing of hundreds of screening samples per week. H3D is currently part of two international consortia working to identify new AMR drug starting points over the next 3 years.
COVID-19
In order to help combat the unprecedented public health crisis the world is facing with COVID-19, H3D has recently initiated a COVID-19 and artificial intelligence (AI) programme. This project is in collaboration with partners from Federal University of Goiás in Brazil and Russian Academy of Sciences.
Capacity building
One of the Centre's key capacity building initiatives is in partnership with the Bill & Melinda Gates Foundation, Medicines for Malaria Venture and African Academy of Sciences through its Grand Challenges Africa Drug Discovery program. This initiative proposed and led by H3D came together in 2018 with the specific aim of expanding and strengthening the drug discovery ecosystem and community in Africa. The initiative seeks to target the best African scientists in drug discovery either already working in the field or whose expertise can be leveraged to bring positive change while at the same time create a cohort of future leaders to build and sustain world-class drug discovery research teams.