Integrated Drug Discovery and Development
Member since 2018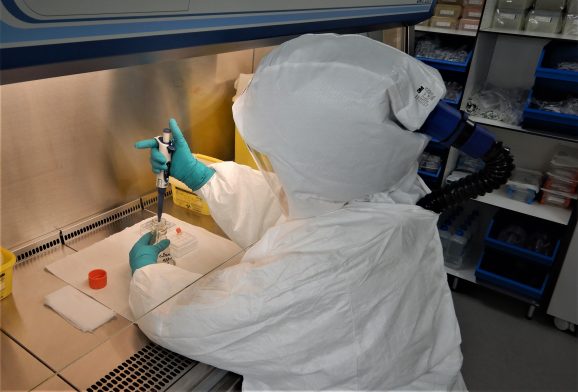 Representative
Anna Upton Ph.D. SVP – Head of Tuberculosis Research and Development
Team
Laurent Goullieux
Christine Roubert
Eric Bacque
Stephanie Sans
Aurelie Ray
Florian Von Groote Bidlingmaier
Evelyne Fontaine
And many others…
About
Join us on the Data-Driven R&D Autobahn to Cures
Evotec is a life science company with a unique business model that delivers on its mission to discover and develop highly effective therapeutics and make them available to the patients. The company's multimodality platform comprises a unique combination of innovative technologies, data and science for the discovery, development, and production of first-in-class and best-in-class pharmaceutical products. Evotec leverages this "Data-driven R&D Autobahn to Cures" for proprietary projects and within a network of partners including all Top 20 Pharma and over 800 biotechnology companies, academic institutions, as well as other healthcare stakeholders. Evotec has strategic activities in a broad range of currently underserved therapeutic areas, including neurology, women's health, as well as metabolic and infectious diseases.
Evotec is committed to meeting patient needs in the field of infectious diseases and with partners, is advancing a broad portfolio of drug discovery programmes targeting key pathogens including mycobacteria. As part of their commitment to Global Health, the company is at the forefront of Tuberculosis research, leveraging an innovative translational science platform. This includes implementing next generation in vivo studies for evaluating TB drug combinations, in addition to a Hollow Fibre Infection Model (HFIM) for TB, to accelerate drug regimen development. Recent years have seen Evotec help launch several strategic collaborations to develop novel regimens to treat all forms of TB. The company continues to evolve and innovate around these and other approaches to translation. In addition to these strategic activities, Evotec provides bespoke research and development solutions in the anti-infective disease area ranging from target identification to investigational new drug ("IND").
Role & Expertise
In December 2018 Evotec joined the Tuberculosis Drug Accelerator consortium (TBDA), developing multiple new programmes to discover compounds with potential to contribute to new and improved drug regimens for drug susceptible and drug resistant TB. Evotec's TB drug discovery focuses on leveraging small molecule and natural product approaches against targets that are either, high value based on clinical data, or have recently emerged as high potential based on the latest pre-clinical data. The team strives for a balanced portfolio and incorporates whole cell screening approaches which may result in identification of further targets of interest. In all cases, the goal is to discover and develop candidate compounds with potential for shortening TB treatment as part of a regimen and without cross-resistance with existing therapeutics.
Links
References