Scripps Research Institute
La Jolla, California USA
Member since 2015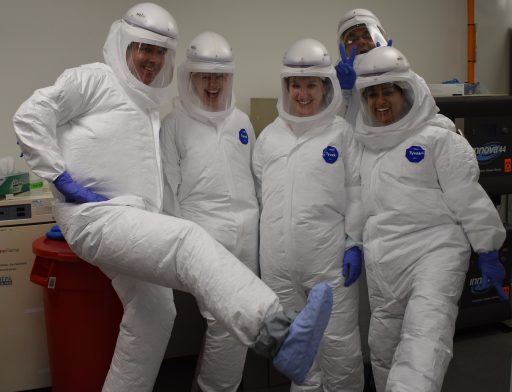 Representative
Case McNamara, Ph.D. Director, Infectious Disease
Team
Melissa Love, Ph.D., Biology Lead
Baiyuan Yang, Ph.D., Chemistry Lead
Ashley Woods, Ph.D., Pharmacology Lead
Paridhi Sukheja, Ph.D., Institute Fellow, Biology
Alessandro Cascioferro, Ph.D., Research Scientist, Biology
Shuangwei Li, Director, Toxicology
Sean Joseph, Ph.D., Sr. Director, Pharmacology
Arnab Chatterjee, Ph.D., Sr. Director, Chemistry
Calibr is the translational drug discovery division of The Scripps Research Institute (TSRI). Supported by funding from the Bill & Melinda Gates Foundation (BMGF), our Infectious Disease team within Calibr is primarily focused on the discovery and development of antimalarials for the prevention and treatment of malaria, antibiotics that will permit treatment shortening for tuberculosis (TB), and next-generation inhibitors of SARS-CoV-2 for the treatment and prevention of COVID. In addition to funding from BMGF, Calibr is also funded by the Wellcome Trust to discover and develop new therapies for a range of parasitic diseases and Dengue virus.
Outside of global health, Calibr has a diverse portfolio that targets oncology, regenerative medicine and metabolic disease. However, the internal investment in global health has been a high priority since Calibr's inception in 2012. Based on that commitment, Calibr received its first 5-year grant from BMGF in 2014 to fund malaria and TB drug discovery. Based on the success of the Calibr team during those first five years, a 5-year renewal was awarded in 2019 for continued efforts in malaria and TB, as well as an expansion into antivirals. At the onset of the SARS-CoV-2 pandemic, Calibr expanded our efforts and applied our expertise to the development of novel, direct-acting antivirals to treat COVID.
Key to our drug discovery capabilities is the integrated infrastructure between high-throughput screening, biology, chemistry and pharmacology. This allows for a single team to guide the development of small-molecule inhibitors from identification in high-throughput screens through optimization of biological and pharmacokinetic parameters to deliver a preclinical candidate (i.e., through CMC and non-GLP toxicology profiling). Additionally, Calibr has assembled a clinical team that can guide a compound through IND-enabling studies and into first-in-human trials.
The ability for Calibr is to deliver preclinical and clinical-stage candidates creates important opportunities to license these assets to development partners. Ultimately, the potential revenues received by these assets will be re-invested into Calibr to achieve a self-sustaining research model.
Role & Expertise
Our general goal, as a drug discovery unit, is to establish the necessary in vitro and in vivo workflow that will fully enable the preclinical development of novel drugs. In general, this entails the development of miniaturized phenotypic assays in 384- or 1536-well format for high-throughput screening, designing orthogonal assays to characterize novelty and prioritization of hit compounds, and target identification.
The biosafety level and slow-growing nature of Mycobacterium tuberculosis (Mtb) are key factors that complicate drug discovery for TB. While many activities can be expertly carried out by the Calibr team, key collaborations mediated by the TBDA supplement the existing Calibr workflow, including specialized in vitro assays (such as those offered by Hackensack Meridian Health, Cornell University and Weill Cornell Medicine), NGS and RNAseq analysis (Texas A&M), structural biology (Texas A&M), and in vivo mouse efficacy models (Colorado State University).
Fortunately, the TB Biology team at Calibr has access to a BSL3 facility to support key biological assays (MIC, MBC, time-kill kinetics, resistance selection, and RNAseq) to characterize the antitubercular activity and mechanism of action for small-molecule modulators against replicating and non-replicating Mtb. Further, the team has established 384-well format assays to screen small-molecule libraries (ranging from 10,000 to 130,000 compounds) to identify novel starting points for optimization by the medicinal chemistry team into highly efficacious compounds with favorable pharmacokinetic and safety profiles that can be orally administered once a day within a drug regimen. Because these medicines are targeting endemic regions in low-to-middle income countries, then a low cost of goods, long shelf life and global access are fundamental considerations for a successful candidate.
Importantly, the Calibr team has taken a two-pronged approach to drive the development of novel TB therapies. First, in an on-going collaboration with Drs. David Russell and Brian VanderVen at Cornell University, we have prioritized molecules that exploit stage-specific pathways. The cholesterol degradation pathway in intramacrophage Mtb is one such pathway and has led to the discovery of an intriguing class of compounds that show the potential for treatment shortening. Second, the team has tapped into the world-class chemistry labs at TSRI to identify first-in-class inhibitors. Overall, these approaches have contributed to a productive pipeline ranging from early- to late-stage drug candidates.