Drug Discovery Science & Technology
Discovery Research
North Chicago, Illinois USA
Member since 2012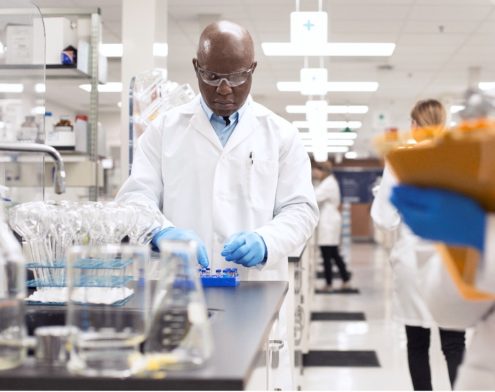 Representatives
Michael R. Schrimpf, Ph.D. Senior Principal Research Scientist, Drug Discovery Science & Technology
Trudi Veldman, Ph.D. Executive Director, Drug Discovery Science & Technology and Head, Neglected Diseases R&D
Team
Dale Kempf (retired)
Augustine Osuma
Dru Namanja
Cory Reidl
Brandon Nelson
Mark Matulenko
Michael McLaughlin
and many others…
About
AbbVie's mission is to discover and deliver innovative medicines that solve serious health issues today and address the medical challenges of tomorrow. We strive to have a remarkable impact on people's lives across several key therapeutic areas: immunology, oncology, neuroscience, eye care, virology, women's health and gastroenterology, in addition to products and services across its Allergan Aesthetics portfolio.
Since AbbVie became a company in 2013, we set out to make giving a part of who we are, while focusing on communities where we can make a real impact. AbbVie and the AbbVie Foundation address neglected diseases that disproportionately affect the world's poor and under-resourced populations in Africa, Asia and Latin America. Our efforts span several diseases including malaria, tuberculosis, Buruli Ulcer, onchocerciasis (river blindness), lymphatic filariasis (elephantiasis), soil transmitted helminths, Chagas disease, Leishmaniasis and dengue fever. AbbVie is a signatory to the London Declaration on Neglected Tropical Diseases, a coordinated campaign to eliminate or control 10 NTDs by 2020. Our Executive Council on Neglected Diseases coordinates efforts across the company to research and philanthropically support innovative approaches that address unmet needs in neglected diseases.
Role & Expertise
The AbbVie Neglected Tropical Disease (NTD) R&D program enables AbbVie researchers and development experts to donate paid work time to collaborate with global health partners to address unmet needs and public health issues, particularly those affecting people in low and middle-income countries. In support of our TBDA partners, AbbVie scientists bring their expertise in medicinal chemistry, computational chemistry, pharmacokinetics, assay development and screening, drug safety, toxicology, pharmaceutics and clinical medicine to the challenges of anti-tuberculosis drug discovery and development.
Links
References